NxG Winter Academy
Lapland Finland

26. januar 2023 kl.12:00

-

29. januar 2023 kl.21:00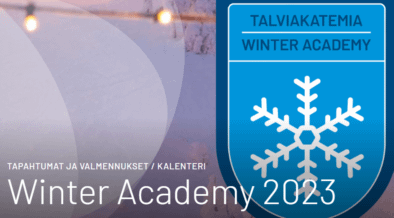 NxG Winter Academy
Finland 26.01-29.01 2023
The Winter Academy is an epic NxG event located in the Finnish Lapland. It is a long weekend filled with learning and challenging ourselves, but also a great opportunity to meet old and new friends over some winter activities
See full programme, Key notes and registrate in link just below:
PROGRAM
During the weekend we will hear some inspirational keynote speakers and real-life cases. We will also challenge ourselves at workshops and visit some local family businesses.
And let us not forget about the winter activities and after ski – that is after all what Winter Academy is known for!
Our keynote speaker is Jarno Laasala, known from the TV-show the Dudesons. Jarno will tell us how his idea of a stuntshow led him "From Finland to Hollywood". Life has not always been easy and there have been several turning points in Jarno's life where he has had to rethink his direction in life. Find out how he has found his own path!
We also hear tree cases from our NxGs: Thomas Zambra from Moomin Characters will speak about how values help steer a growing international business working at the intersection of culture and commerce, as well as his own journey to and within the company. Anna Herlin, The Tiina and Antti Herlin foundation, tells us how she has found her purpose in generating positive societal impact and ecologically sustainable future with the family foundation. Our third and final case is Krista Halttunen, Halton Group. Krista is passionate about sustainability and at the moment she lives in London finishing her PhD.
VOLUNTARY ACTIVITIES
On Saturday morning it is possible to attend voluntary outdoor activities. The activities are:
More information on the activities coming soon!
Please note that the schedule is a draft and changes in the program are possible!
ACCOMODATION
We stay at 5-8 person Ski-Inn apartments in the heart of Pyhä Ski Resort. Each apartment has kitchen and sauna.
It is possible to wish for a roommate / roommates. We will try our best to fulfill your wishes as much as possible.
ARRIVAL
It's easy to access Pyhä – whether you come by your own car or by public transportation.
We will arrage bus transportation between Rovaniemi and Pyhä for these flights:
Thursday 26.1. Finnair AY533 HEL 11.55 – RVN 13.20 (the bus from this flight will stop at Rovaniemi for a company visit and lunch)
Sunday 29.1. Finnair AY534 RVN 14.00 – HEL 15.20
Some airlines fly directly to Rovaniemi from Europe and it is also possible to travel by train to Rovaniemi or Kemijärvi. There are good SkiBus connections from the airport and the train stations! Please check for more information from HERE.  Please note that the company visit on Thursday is located in Rovaniemi!
Please note, that you need to handle your own travel arrangements and make sure to do it well in advance!
PRICING
Perheyritysten liitto / The Finnish Family Firms Association members: The registration fee is 390€ (+ VAT 24%) for our Finnish members.
FBN International members/Non-members: The registration fee is 620€ (+VAT 24%) for our international guests.
Our Finnish members pay a yearly membership fee to the Finnish Family Firms Association, which has been taken into account in their price.
The registration fee includes all fixed costs:
Accommodation in 5-8 person apartments from Thursday to Sunday
Full seminar and workshop programme
Meals and organized bus transportation mentioned in the event programme.
Related Begivenheder